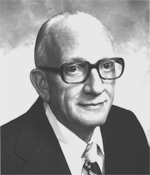 Karl L. Fetters (TMS)
AIME Honorary Membership in 1976
For notable contributions to the technology of steelmaking, particularly in the field of slag-metal reactions, and for his dedicated service and leadership in the affairs of the Institute and of the engineering profession.
Karl L. Fetters is a consulting engineer who retired in 1972 as vice-president Technical Services for the Youngstown Sheet and Tube Company in Ohio after thirty five years of service to the company. As a top level technical executive, Dr. Fetters has participated in or been a close observer of many of the most far-reaching technical developments ever to occur in the steel industry. Under his general direction, the company constructed its modem Technical Center. He has made a number of important contributions to steel making technology, especially in the area of basic open hearth. He has been particularly active in research on slag-metals reactions in steel making.
He received his B.S. degree in metallurgical engineering from the Carnegie Institute of Technology in 1931 and was awarded the degree of doctor of science from the Massachusetts Institute ofTechnology in 1940.
Elected to membership in the National Academy of Engineering in 1965, Dr. Fetters has also been honored by being selected as a Fellow of The Metallurgical Society of AIME in 1964 and as a Fellow of the American Society for Metals in 1971.
A member of AIME since 1937, who has served on many boards and committees, Dr. Fetters was president of the Institute in 1964, president of The Metallurgical Society of AIME in 1962, and chairman of the Society's Iron and Steel Division in 1958. He was also a national trustee of the American Society for Metals from 1954-1956 and chairman of the general research committee of the American Iron and Steel Institute.