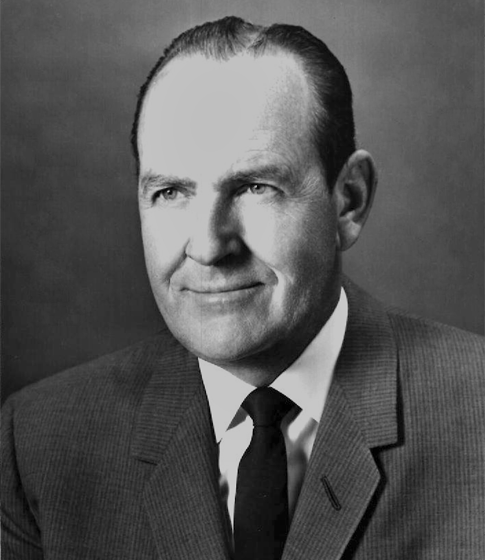 John R. McMillan (SPE)
AIME Honorary Membership in 1985
For a distinguished management career in major and independent oil companies; for active participation in and leadership of industry professional and technical organizations; and for leadership as Pr~sident of the Society of Petroleum Engineers and of AIME.
John R. McMillan is an engineer-executive who is regarded as one of the most outstanding independent oilmen in the world. Mr. McMillan has made his mark on the American economy in the development of small, independent oil companies.
In the last 25 years, Mr. McMillan has served in the following top executive offices and been involved in the listed major transactions: President of Fullerton Oil Company until sold to Monterey Oil Company; executive vice-president of Monterey Oil Company until sold to Humble Oil & Refining Company; President of the Monterey Division of Humble Oil until the creation of Monterey Gas Pipeline Company of which he was named President; organizer and first President of Transwestern Pipeline Company; and later partner in Lacal Petroleum Company until assuming the Presidency of Reserve Oil & Gas Company in 1963. Late in 1967, Reserve acquired 27% of Fargo Oil Ltd. of Canada and he subsequently was named President of Fargo. Reserve has acquired the following companies in the last five years: Fremont Valley Lands, Long Beach Dock & Terminal Company, Rice Ranch Oil Company, and Apple Valley Building and Development Company.
But in spite of his organizational and financial genius, President McMillan is first and foremost an engineer. He hold a B.S. in mechanical engineering from the California Institute of Technology. He worked for 14 years with Barnsdall Oil Company as a petroleum engineer before he joined Fullerton Oil in an engineering capacity in 1943. He is a registered petroleum engineer in California and Texas, besides recently being designated by the American Association of Petroleum Geologists as a certified petroleum geologist.
President McMillan has served for six years on the AIME Board of Directors and as Chairman of the Petroleum Branch of AIME in 1954. He will bring strength and enthusiasm to the presidency of the Institute, and he plans to devote an appreciable amount of his time to AIME business and financial matters.