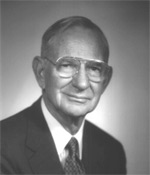 John P. Hammond (SPE)
AIME Honorary Membership in 1989
For outstanding contributions in developing strategic and economic planning for oil and gas exploration and production in the U.S. and worldwide; for industry leadership as corporate executive; and for dedicated and continuing service over a period of more than 50 years to the Society, the petroleum engineering profession, and the Institute.
John P. Hammond, was graduated from the University of Tulsa in 1936 with a degree in Petroleum Engineering. He joined Amerada Petroleum Corporation as an Engineer in 1941 . In subsequent years he served 1n various capacities within the company; and in June 1969, following the merger of Amerada and Hess Oil & Chemical Corporation, he was elected PresIdent of the Amerada Division and Executive Vice-President and a Director of Amerada Hess Corporation. He retired in 1971, at which time he became an independent Petroleum Consultant.
Appointed the first Chairman of the Advisory Committee lo the College of Engineering and Physical Sciences at the University of Tulsa, Mr. Hammond received the "Hall of Fame" award from that school 1n 1970. He is a past director of a number of associations Including the American Petroleum Institute. In 1966 he served as Vice-Chairman of a Technical Task Force of the National Petroleum Council and served on the Emergency Petroleum Supply Committee of the U.S. Department of the Interior in 1969 and 1970.
Mr. Hammond joined AIME 1n 1938. He was Chairman of the Mid-Continent section in 1949 and a Petroleum Branch Director in 1952-53. A member of the SPE Board in 1956-58, he was elected 1957 SPE President. Mr. Hammond was an AIME Director from 1956-60 and an AIME Vice-President in 1960. He chaired the Lucas Gold Medal Committee and has served on the Investment and Rand Gold Medal Committees. In 1977 Mr. Hammond received the SPE Distinguished Service Award.