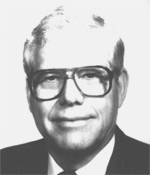 John M. Campbell, Sr. (SPE)
AIME Honorary Membership in 1994
For his pioneering contributions in the field of gas and natural gas liquids processing and his unselfish sharing of this technology in the classroom and through the publications of books and technical literature.
John M. Campbell is the retired CEO of the Campbell Group of Companies with offices in the United States and abroad; he does public service work and continues research and writing in management of money and applied economic areas. He received his BS from Iowa State University and his MS and PhD from the University of Oklahoma. During his career he worked on the Atomic Energy Project and at BS&B Inc. He spent 19 years as a member of the engineering faculty at the University of Oklahoma serving as Chairman of Petroleum Engineering, Director of the Petroleum Research Center, Halliburton Professor and Distinguished Professor. He is author or co-author of 11 books and more than 130 technical articles.
Dr. Campbell spent a lifetime in the pioneering of technology and its applications. His 1959 book Oil Property Evaluation was the first to introduce petroleum time value of money applications, quantitative decline curve calculations and coordinated engineering economic considerations; this book was the primary basis for modern petroleum evaluation practice.
Campbell has been an SPE Distinguished Lecturer, has served on and chaired several committees; he received the SPE John Franklin Carll Award in 1978 and was elected a Distinguished Member in 1983.