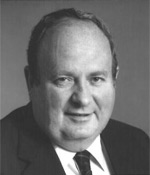 John K. Hammes (SME)
AIME Honorary Membership in 1998
For exceptional contributions to the Institute for over twenty years as its Chief Financial Officer and dedicated service as a United Engineering Trustee leading to the sale of the United Engineering Center and restructuring of the UET for the betterment of the engineering profession.
John K. Hammes, AIME Vice President-Finance, consults in the international mining industry. He retired as chief operating officer and director of Santa Elina Gold Corporation in July, 1996. He was responsible for Citibank's metals and mining business from 1968 to 1994. From 1965 to 1968 he was employed in the Metal Mining Division of Kennecott Copper Corporation.
Dr. Hammes received his bachelor's degree from the University of Missouri and his MS and PhD in mining engineering from the University of Minnesota. He negotiated over $10 billion in mining financings where Citibank was lead bank; he pioneered the concept of "completion agreements" which are now the primary structure for designing mining project loans. He also developed the concept of variable dedication production payment financing for mining projects and for general corporate purpose debt.
Dr. Hammes has authored numerous papers on copper and iron mining, and mining finance. He was an SME Krumb Lecturer, recipient of SME's Best Presentation Award in 1974, and is past chairman of the NY Section of SME. He has served as AIME Vice President-Finance since 1977. Dr. Hammes was the first recipient of the AIME Distinguished Service Award, presented in 1989. In 1996 he was elected to the United Engineering Board of Trustees.