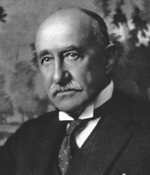 John Hays Hammond
AIME Honorary Membership in 1928
In recognition of his standing as an engineer, his eminent public services, and his interest in the work of the Institute.
The long and distinguished career of the Medalist has made him widely known to the public while his activity in mining in all parts of the world has made him personally acquainted with the members of his profession to a degree rare even among men notable for wide wandering. At the Boston Meeting, in September last, he gave a most interesting series of reminiscences of his fifty years of service as a mining engineer.
Born in 1855 in California, Mr. Hammond was one of that pioneer band of Freiberg graduates who brought technology into western mining practice. It was not an easy task and he has himself given an amusing account of how heavily the trained man was at a discount in the estimation of the "practical" men who then dominated the scene. Refusing to be discouraged he stuck to it and starting, as have so many other men now at the top of the profession as a member of the U. S. Geological Survey in 1880, he went up rapidly. His keenness in judging mines was early recognized and his skill in organizing their development and operation has been called into requisition by companies and governments around the globe. To list the names of the companies with which he has been connected would be to list most of the famous gold-silver mines of the World and to include many devoted to other minerals.
He served as president of the A.I.M.E. in 1907-08, and in recent years has devoted much time to public service. His Chairmanship of the United States Coal Commission is perhaps the most important recent activity in this line and did much, as has his whole career, to give the engineer a proper place in public estimation.