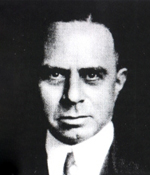 John Fairfield Thompson (TMS)
AIME Honorary Membership in 1961
A metallurgist, scientist and administrator whose early appreciation of the unique qualities of nickel brought immense benefits to the world as well as outstanding success to the vast enterprise he has directed.
John Fairfield Thompson was born in Portland, Maine, in 1881, and attended the School of Mines, Columbia University, receiving a B.S. in 1903 and a Ph.D. in 1906. The following honorary degrees have been conferred on him: D.Sc., Columbia, 1950; L.L.D., Queen's University, 1954, and Bowdoin College, 1959; and the degree of Doctor of Humane Letters from Marshall College in 1960. He is a commander in the Order of the White Rose (Finland).
For his distinguished engineering achievements, Dr. Thompson has received many awards, including the Charles F. Rand Gold Medal.
Dr. Thompson joined International Nickel in 1906 as Metallurgist. From then to 1913, he established and became Manager of the first Technical Department, a forerunner of the present Development and Research Division. As Manager of Operations in 1921, he supervised the construction and initial operations of the Company's Huntington Works, founded for the production of high-nickel alloys. From 1923, he became successively, Assistant to the President; Director; Vice-President; Executive Vice-President; President; and, in addition to President, in 1951, he was appointed Chairman of the Board. In 1952, he relinquished the Presidency, continuing as Chairman and Chief Officer of the Company. In 1960, Dr. Thompson retired from this office and is now Honorary Chairman of the International Nickel Co. of Canada, Ltd., and of the International Nickel Co., Inc.