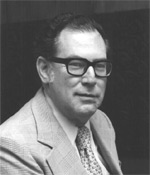 John C. Calhoun, Jr. (SPE)
AIME Honorary Membership in 1976
For his significant contributions to the petroleum industry as an educator and author and for his dedicated and distinguished service to the Society of Petroleum Engineers and the Institute.
John C. Calhoun, Jr. is vice-president for programs at Texas A&M University. He began his career in education in 1937 as a research assistant and instructor at the Pennsylvania State University where he received all three of his petroleum engineering degrees: his B.S. in 1937, his M.S. in 1941 and his Ph.D. in 1946.
Dr. Calhoun has held various positions of authority in the field of education including vice-president and vice-chancellor for engineering and vice-chancellor for development at Texas A&M College during the years 1957-1960. During a one year leave of absence from the college in 1963, he was science advisor and special assistant to the United States Secretary of the Interior. He has authored some sixty technical articles and a book entitled. "Fundamentals of Reservoir Engineering".
Dr. Calhoun, a member of AIME since 1946, was a member of the Institute's board of directors in 1963-1965 and a past chairman of the AIME Council of Education. He has served the Society of Petroleum Engineers of AIME in several capacities including president in 1964 and as a distinguished lecturer in 1961-1962. In 1967 he received the AIME Mineral Industry Education Award. a current member of various other professional societies, Dr. Calhoun is also a former member of the Education and Accreditation Committee of the Engineers Council for Professional Development and former vice-president and board member of the Junior Engineering Technical Society. He is a post president of the American Society for Engineering Education.