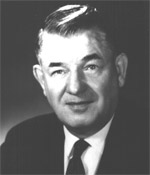 Jesse F. Core (SME)
AIME Honorary Membership in 1979
For his dedication and concern for the safety of all people engaged in mining, and his ability to motivate and develop leaders in the mining industry.
Jesse F. Core, retired from the U.S. Steel Corporation, is an Adjunct Professor of Mining Engineering at Pennsylvania State University, and is currently serving as the industry member of President Carter's commission on the coal industry. He received a BS degree in mining engineering from Penn State in 1937.
After graduation from college, Mr. Core worked as a coal miner for the Hillman Coal & Coke Company. From 1938 to 1947, he was employed in various capacities by the Pittsburgh Coal Company. He then joined Buckeye Coal Company and later Island Creek Coal Company before joining U.S. Steel in 1951. His first position with U.S. Steel was as a Mining Engineer in the Frick District, Uniontown, Pennsylvania. He was appointed Chief Engineer of that District in 1954 and General Superintendent in 1955. In 1958 he was elected Vice President of Coal Operations and occupied that position until1976, retiring in 1977 as Staff Consultant on Coal to the President.
Mr. Core has been a member of AIME since 1936. He acted as a member of the advisory board to the Pittsburgh Section for a number of years and is now senior advisor to the Student Chapter of SME-AIME at Penn State. He is an honorary life member and past president of the Pittsburgh Coal Mining Institute, an honorary life member of the National Mine Rescue Association, and a member of the American Mining Congress, having served as chairman of the coal division from 1959 to 1972. He received the AIME Erskine Ramsay Medal in 1971 and was elected a Distinguished Member of the Society of Mining Engineers of AIME in 1975.