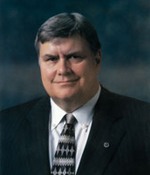 James R. Arnold (SME)
AIME Honorary Membership in 2016
For outstanding contributions to SME and the Minerals Industry throughout his successful and distinguished career as both a builder of mines and manager of people.
James R. Arnold has over 30 years of experience in the mining industry working in all phases ermine operations from laborer to Vice President - Operations. He has worked in underground and surface operations in production, maintenance and engineering primarily in gold and silver. He helped build and start, then managed the lowest cost gold operation in the world at Gold Fields' Chimney Creek. Arnold managed the world's lowest cost underground mine at Henderson and managed the Ortiz mill in one of the world 's first successful heap leach operations.
As an operator he spent significant time in the environmental arena, actually helping write and implement many of the environmental laws used today. Arnold managed both union and non-union organizations in five states. As President and CEO of Knight Piesold and Co., he led the largest primary mining consulting firm in the country. His activity in leadership roles in numerous professional and civic organizations which has led to local and national recognition. Arnold served as President of SME in 2007 and led the Nevada Mining Association in several capacities including Chairman.