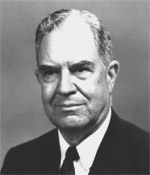 James B. Austin (ISS)
AIME Honorary Membership in 1978
For major contributions to steelmaking as a scientist and able research administrator, and for distinguished and tireless service to AIME as President, Director, and Honorary Lecturer.
James B. Austin was formerly administrative vice president for research and technology at U.S. Steel Corporation. He was recently named a Henry Krumb Lecturer for 1969 by AIME.
Dr. Austin earned a B.S. in chemical engineering from Lehigh University in 1925. His Ph.D. in physical chemistry came in 1928 from Yale University. He began his career in 1928 when he joined the newly formed U.S. Steel Research Laboratory at Kearney, N .J. He was made assistant director of this facility in 1944.
Dr. Austin was named director of research for U.S. Steel in 1946. In 1956 he was appointed vice president, fundamental research. Two years later, 1958, he was named to the position of administrative vice president, research and technology, a post he held until his retirement in 1968.
The author of numerous technical papers, Dr. Austin also has a book to his credit: "The Flow of Heat in Metals." He is an honorary member of the Japanese Iron and Steel Institute, an honorary vice president of the Iron and Steel Institute of London, and a Fellow of The Metallurgical Society of AIME. He has served AIME as a director and is a past-president (1954) of the American Society for Metals.