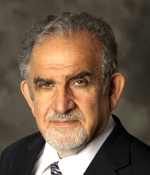 Iraj Ershaghi (SPE)
AIME Honorary Membership in 2012
For his significant contributions to the advancement of knowledge and literature in understanding hydrocarbon reservoir characteristics including rock and fluid properties as well as fluid flow behavior in sedimentary formations with special applications in formation evaluation of hydrocarbon and geothermal reservoirs over the past 40 years.
Iraj Ershaghi is the Omar B. Milligan Professor and Director of the Petroleum Engineering Program at University of Southern California. He is also serving as the USC Executive Director of the Center for Smart Oilfield Technologies at USC. His areas of research and publications are reservoir characterization, naturally fractured reservoirs, unconventional resources, smart oilfield technologies, well testing and improved recovery processes. He is a graduate of University of Tehran with a BS in Petroleum Engineering and MS and PhD from University of Southern California.
He has been the recipient of SPE's Distinguished Faculty Award, Distinguished Member Award, Western North America Distinguished Service Award, Technology Transfer Award for Development of the Smart Oilfield Technology Curriculum and Western Regional North America Reservoir Description and Dynamics Award. As a fellow of Institute for Advancement of Engineering, he received the Outstanding Educator Award of American Association for Advancement of Engineering and the Outstanding Educator Award of Orange County Council of Engineers and Scientists. He served as SPE's Distinguished Lecturer during 2006-2007. In 2010 he was the recipient of the SPE's John Franklin Carll award.