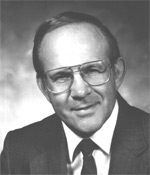 Howard N. Hubbard, Jr. (ISS)
AIME Honorary Membership in 1992
For his continuing support and leadership in the Institute and the Iron and Steel Society and for his tireless commitment in expanding the Society's efforts in the dissemination of technology to the iron and steel industry.
Howard N. Hubbard, Jr. is Vice President of Corporate Development at Universal Refractories of Pittsburgh, PA. After receiving his B.S. in Mechanical Engineering from Carnegie Mellon University in 1956, Mr. Hubbard began his career with United States Steel Corporation at Gary Works. He progressed through various supervisory positions before becoming Division Superintendent of Steel Producing in 1973. During the latter part of this period, he was involved with the start-up of many new steelmaking and continuous casting facilities. In 1977 he was appointed General Superintendent of Youngstown Sheet and Tubes, Youngstown D1strict, and in 1981 started K.S.R. Amtec Refractory Company in Youngstown. When Amtec was purchased by another company in 1985, he continued in the refractory business and was appointed to his current position in 1990.
Mr. Hubbard has been a member of the Iron and Steel Society since 1965, has served as Chairman of the Steelmaking Division and was a member of the Division's Executive Board from 1972 to 1979. He served on the ISS Board from 1979 to 1985 and was President in 1983. He had the honor of being selected as an ISS Distinguished Member in 1985. Mr. Hubbard was a member of the AIME Board from 1982 to 1985 and from 1987 to 1990, serving as President in 1989. He is currently chairman of the ISS Advanced Technology Committee and a member of the Board of Governors of the ISS Foundation.