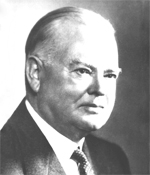 Herbert Clark Hoover (SME)
AIME Honorary Membership in 1917
Herbert Hoover's recent years have been so exclusively devoted to public service that many who know him well are unfamiliar with the distinguished work he did as an engineer before the World War.
Trained at Stanford University, he acquired early experience on the United States and Arkansas Geological Surveys. The work of a miner he learned underground rising to the proud position of shift boss at Grass Valley, that training camp of many famous mining engineers. Louis Janin taught him mine sampling in Colorado, passing him on to Bewick Moering and Co. in London who sent him to Australia where he managed the Great Fingall, Lake View & Star, Oroya-Links, and Sons of Gwalia, all famous gold producers. Going thence to China, he made the Kaiping coal mines pay and returned to London as partner. Subsequently, in addition to the mines mentioned, he looked after the Talisman in New Zealand, the South Blocks in New South Wales, organized the Zinc Corporation, reorganized successfully the Spassky Copper, the Ridder, and Ekibastus mines in Russia, the Natomas placers in California, and managed the great Burma mines and many others. He had come home to stay when the Grenfell failure called him to London to reorganize the world-wide mining interests of that group. Then, the flood of American refugees at the outbreak of the War swept over him bearing him into the general current of service away from mines and engineering.
To others Hoover is the economist, administrator, and executive: to miners and engineers, he is the professional associate who by his insight and skill has made a brilliant technical and business success of mines, mills and smelters.