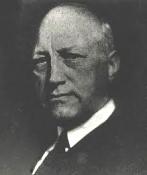 Henry Krumb
AIME Honorary Membership in 1939
In recognition of his notable attainments as an engineer; of his constant and effective efforts in behalf of the profession; and of his never-failing and wise counsel in the administration of the Institute's affairs during critical years.
Henry Krumb, one of the most respected members of the mining industry, had to his credit an extraordinary number of accurate evaluations of mineral properties, especially in porphyry coppers. His scientific approach to these evaluations was renowned throughout the industry.
As a Guggenheim engineer, his work of drilling and sampling the Bingham Canyon orebody in Utah laid the foundation of his expertise in evaluating porphyry coppers. He was the first to apply scientific methods to sampling orebodies and, so reliable was the "Krumb Technique" that no one to this day has discovered a way to improve on his methods.
He accomplished important work in the early stages of such great orebodies as Bingham Canyon; Ely, Nevada; Ray, Arizona; Inspiration; Braden (Chile), and Flin Flon in Manitoba. He was first to bring the great porphyry deposits at Inspiration, Arizona to the attention of William Boyce Thompson. The mine was a bonanza and for many years an enormous copper producer, with Krumb in charge of drilling and sampling there. Thus began an enormous, and extremely effective, churn-drilling operation which records indicate was the first instance in which churn-drilling and sampling were the principal basis for the estimation of and assay value of an important copper orebody. Krumb was also responsible for the development of the abandoned Silver Queen Mine near Superior, Arizona. The mine was renamed the Magma and proved to be a high grade orebody.
At age 77, Henry Krumb performed his last assignment for Newmont Mining Corporation.  He directed and evaluated a drilling and sampling program for them at Southern Peru.  It is fitting that his final contribution to the mining industry helped produce one of the largest porphyry copper properties in the world.  In a bequest, which eventually came to $18 million, he endowed and completely equipped new facilities for his Alma Mater, The College of Mines of Columbia University.