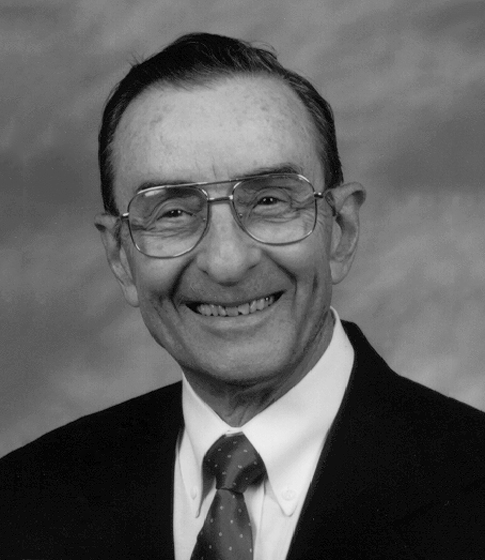 Gerald E. Sherrod (SPE)
AIME Honorary Membership in 1999
For career-long outstanding service to tbe Society and Institute and in recognition of his vision to make SPE a transnational organization serving upstream petroleum professionals through its network of meetings and publications.
Gerald E. Sherrod, 1973 president of SPE, retired as vice president of First National City Bank (now Citibank) in New York City. He joined SPE in 1949 and was a petroleum engineering graduate of the University of Tulsa. He did graduate work at New York University's Graduate School of Business and the Graduate School of Credit and Financial Management at Stanford U. Following graduation, Mr. Sherrod worked as chief reservoir engineer for Texas Pacific Coal & Oil Company. He joined the bank in 1961 and retired in 1982.
Long active in SPE and AIME matters, he was chairman of the New York Petroleum Section and served as an SPE Board member from 1965-1967. He served terms on the AIME Board of Directors (now Trustees) both as treasurer and as a director representing SPE. Sherrod represented AIME on the Engineers Joint Council (now American Association of Engineering Societies, AAES) and the United Engineering Trustees (UET). Mr. Sherrod served on numerous intersociety committees and was a member of the Society of Petroleum Evaluation Engineers, the American Arbitration Association, and the Independent Petroleum Association of America. He was instrumental in SPE's efforts to become a global organization.