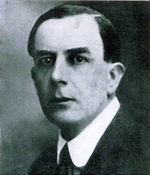 Gelasio Caetani
AIME Honorary Membership in 1923
Gelasius Caetani, born in Rome on March 7, 1877 where he died on October 23, 1934.
The young nobleman (Noble of the Dukes of Sermoneta, Noble Roman, Patrizio Napoletano, Nobile di Velletri) comes from one of the oldest families in Italy. His father is the prince Onorato, his mother Constance Ada Bootle Wilbraham.
Despite its noble origins, Gelasius Caetani will never want to take advantage of their social rank. A graduate engineer in St. Peter in Chains, specializing in mining technology, establishing himself strongly in the United States, where he began his experience as a simple worker: in a few years conquest, only thanks to his professionalism.
At the announcement of the Italian intervention in World War I Caetani returned to his homeland to volunteer. Recruited with the rank of Lieutenant of Engineers (8th Company, 1st Regiment diggers) is the creator of the epic mina del Col di Lana, one of the most remarkable episodes of the war 15-18. The Cross of the Military Order of Savoy and three silver medals signify the value shown by him during the war.
Who retired after the victory, Gelasius is responsible for the remediation of its possessions in the Pontine Marshes, an operation that technically is worthy as an example and model for the next Remediation of those areas undertaken by the fascist regime. He is also dedicated to studies and research on the history of its ancient lineage, with the exploration and systematic publication of the archive of the Domus Caietana, drawing some volumes of particular importance.
In 1921 he was appointed Senator and later, from 1922 to 1927, he was appointed Ambassador to Washington.
Back in Italy he once again dedicated himself to agriculture and studies, finding new passion in dedicating himself to sculpture.
From 14 July 1929 he was a corresponding member of the Accademia dei Lincei.
He died in Rome on October 23, 1934. He lived a full life, was a great gentleman, but also a hard worker, which earned him the award of four "honorary" degrees.