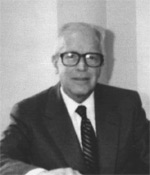 G. William Knepshield (ISS)
AIME Honorary Membership in 1990
For his financial management and administrative expertise and counsel which he has faithfully contributed to the Iron and Steel Society since 1977.
G. William Knepshield has forty years of experience in the iron and steel industry. He is currently President of Red Lion Co. and Sales Consultant to Eichleay Engineers of Pittsburgh. For more than twenty-three years he was Kaiser Engineers' Eastern District Manager of Business Development.
Before joining Kaiser Engineers. Mr. Knepshield's experience included positions as financial analyst for a bank, senior analyst for a large steel firm, manager of a drill bit and tool company and sales representative for several metalworking companies in Pennsylvania. He is a graduate of the University of Pittsburgh with a degree in business administration.
An active member of the Iron and Steel Society, Mr. Knepshield served on the ISS Executive Committee and Board of Directors and has been Treasurer of the Society for the past fifteen years. He was elected a Distinguishcd Member of ISS in 1982. Mr. Knepshield's other professional affiliations include the American Iron and Steel Institute, Association of Iron and Steel Engineers and Engineers' Society of Western Pennsylvania.