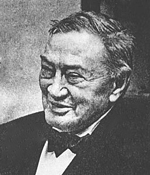 Fred Searls, Jr. (SME)
AIME Honorary Membership in 1958
For distinguished leadership in the practical application of mining geology in the exploration and development of mineral deposits in North America and in far countries; and for service to the Nation during World War II, in taking an effective part in the formulation of plans and policies for the prosecution and successful termination of the War.
Fred Searles, JR., was unanimously elected to Honorary Membership by the AIME Board of Directors on November 18, 1957. He was born in Nevada City, California, in 1888, and received his early education in that city. He graduated from the College of Mining, University of California in 1909. The following year he was Instructor in Mineralogy under Professor Andrew C. Lawson at the same University.
From 1910 to 1912, he was a Geologist with the Goldfield Consolidated in Nevada. From 1913 to 1914, he was a Consulting Geologist for the same company and for Mason Valley Mines Co. and Mines Co. of America. For the next two years he was Geologist for the New York Orient Mines Co., working in Yunan, South Africa, and the East Indies. His professional work was interrupted for service with the U. S. Army in France from 1917 to 1919.
Following his military service, Mr. Searls became Consulting Geologist for W. A. Clark, Newmont Mining Corporation, and the U. S. Smelting, Refining & Mining Co. until 1925. During this period, he was also engaged in apex litigation in Butte, Coeur d'Alene, and elsewhere.
Mr. Searls was next appointed Vice-President of Newmont. He was elected President in 1947 and Chairman of the Board in 1954, a position which he still holds.
During World War II, Mr. Searls served in the Ordnance Division of the War Department, War Shipping Administration, War Production Board, and Office of War Mobilization and Reconversion. Thereafter he was Special Assistant to the Secretary of State, as a member of the U. S. Delegation to the U. N. Atomic Energy Commission, and in the Office of Defense Mobilization.
In 1946, Mr. Searls was awarded the Saunders Gold Medal by AIME, of which he has been a Member since 1915. He has also been awarded the Medal of Merit of the U. S. and the Moroccan "Ordre du Ouissam Alaouite Cherifien."