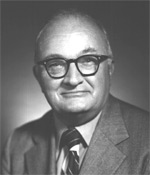 Fred H. Poettmann (SPE)
AIME Honorary Membership in 1985
For noteworthy contributions to advancements in secondary and tertiary oil recovery technology, and natural gas storage and transportation; and for dedicated service at all levels including directorships of the Society of Petroleum Engineers and of AIME.
Fred H. Poettmann began his career in 1946, after receiving a B.S. in Chemical Engineering from Case Institute of Technology and an MS. and Ph.D. from the University of Michigan. He worked for Phillips Petroleum Co. in production research for nearly ten years before joining the research staff of Marathon Oil Co. in 1955. He retired from Marathon in 1983 and joined the faculty of the Colorado School of Mines as professor of petroleum engineering. Dr Poettmann is a recognized authority in the area of natural gas reservoir engineering and has authored numerous publications and books and holds US. and international patents.
During Dr. Poettmann's more than 30 years of service to both SPE and AIME, he has served as an SPE Director from 1965 to 1968 and an AIME Director and Vice President from 1969 to 1972 He has received the Lester C. Uren and John Franklin Carll awards and the University of Michigan Sesquicentennial Outstanding Alumnus Award. He is both a Distinguished Member and Honorary Member of SPE.