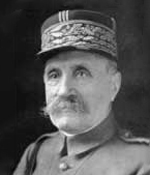 Ferdinand Foch
AIME Honorary Membership in 1921
Ferdinand Foch, the son of a civil servant, was born in Tarbes in 1851. After fighting in the Franco-Prussian War (1870-71) he became an artillery specialist on the French General Staff. Between 1907 and 1911 Foch was commandant of the Ecole de Guerre.
On the outbreak of the First World War Foch used part of the French Second army to block the German advance on Nancy. Promoted to commander of the Ninth Army, he led the French counter-attack at the Marne. His success led to further promotion and in October he was placed in charge of the French Northern Army on the Western Front. He held this post during the Battle of the Somme in the summer of 1916. When Robert Nivelle replaced Joseph Joffre as Commander-in-Chief of the French Army, Foch was recalled to Army Headquarters.
In 1918 during the German Spring Offensive Foch was promoted to Allied Supreme Commander on the West Front. Despite clashing with General John Pershing over the deployment of US forces, Foch managed to make a success of his role as allied coordinator. Foch therefore received the credit for masterminding the victory over Germany.
Foch headed Armistice negotiations and played an important role at the Paris Peace Conference. Foch took the view that it was vitality important that the terms made German military recovery impossible. Ferdinand Foch died in 1929.