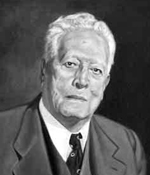 Ezequiel Ordonez
AIME Honorary Membership in 1913
Ezequiel Ordonez was a Mexican engineer and geologist. He graduated from the National School of Engineers in 1891, with the specialties of topography and hydrography. Even as a student he was teaching as a substitute in the lectures and participated in the Commission's Draft Charter Geological Mexico. Learning furthered volcanology, geology and mineralogy.
In 1901 participated in the first survey of the oil regions, along with a Mexican commission, after inspecting the Gulf Coast, decided that there was no oil. However, Ordonez said otherwise, and separated from the group and advised the Huasteca Petroleum Company, with whom he was related by chance.
He discovered so-called Faja de Oro, one of the most productive regions of the nascent oil industry. His powers of observation and his ability to make decisions allowed many wells drilled and wealth that allowed that company to become one of the highlights of the country.
Ordonez belonged to various scientific groups, participated in numerous conferences and wrote numerous articles and essays on archeology and the history of oil in Mexico.