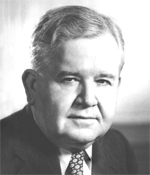 Everette Lee DeGolyer (SPE)
AIME Honorary Membership in 1951
For distinguished service to the petroleum industry through pioneering in the application of geophysical techniques to oil finding, and in recognition of the many contributions he has made to our understanding of the occurrence of petroleum and natural gas, and in grateful acknowledgment of his selfish and patriotic service to his country, by his leadership, sound counsel and excellent judgment, both in time of peace and in the face of war, which has brought honor to himself and to the Institute.
Everette Lee DeGolyer's accomplishments in the petroleum industry were legendary, even before his death in 1956. He received an AB degree from The University of Oklahoma in 1911. He had been working with the Mexican Eagle Oil Co. while in school, and after graduation he moved up to consulting geologist with the firm. During this period he located the Potrero del Llano No. 4, world's largest oil well, which produced some 125 million barrels of oil during its life.
In 1919 he organized Amerada Petroleum Corp., and subsequently became chairman of the Board before leaving the company in 1932 to enter consulting work. In 1936 he opened consulting offices with Lewis W. MacNaughton; and remained with the firm of DeGolyer and MacNaughton as a senior partner until his death.
A pioneer in the introduction of geophysics into oil exploration, DeGolyer was honored with major awards by professional groups, technical societies and educational institutions throughout the world. His long service to AIME culminated in serving as President of the Institute in 1927. He was also President of the AAPG and a member of many other organizations.