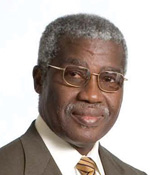 Egbert U. Imomoh (SPE)
AIME Honorary Membership in 2011
For serving as a stalwart champion for his profession and his Region, for his leadership in the creation of the Nigerian Council, for his service on the SPE Board of Directors, and for his unwavering commitment to SPE.
Imomoh is the nonexecutive chairman and a co-founder of Afren. In 1968, he joined Shell in Nigeria as a petroleum engineer after basic training in the Netherlands. He worked in Nigeria, the UK, and the Netherlands and rose to the position of deputy managing director of Shell Petroleum Development Company of Nigeria, a position he held until February 2002 when he retired. After that, he worked with Shell International in London as a senior corporate adviser on Nigeria during 2002 to 2004.
Imomoh has been a member of SPE since 1973 and was a founding member of the section in Nigeria. He was chairman of SPE Nigeria Council in 1986 and was named a Distinguished Member of the society in 1999. He served as the first regional director for Africa on the SPE Board of Directors between 2000 and 2003 and was the chairman of the board committee on educational nd professional activities during 2002 and 2003. He has been chairman of the Board of Trustees, SPE Nigeria Council since 2007. Imomoh graduated with a degree in mechanical engineering from the University of Birmingham, England.