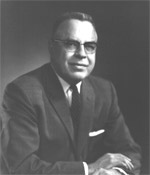 Edwin H. Crabtree, Jr. (SME)
AIME Honorary Membership in 1979
For significant contributions to the technology of minerals processing and extractive metallurgy derived from positions of production supervisor and research administrator, and for his many services to professional organizations, government activities, and educational institutions.
Edwin H. Crabtree, Consultant, Colorado School of Mines Research Institute, received his EM degree from the Colorado School of Mines in 1927. Prior to his retirement in 1970, he was Director of the Research Institute for 15 years, in which he supervised the process development of almost all the metallic and non-metallic ores on a world-wide basis, and worked in the early development of oil shale.
Previous to this employment, he was Deputy Manager of the Atomic Energy Commission at Grand Junction, Colorado, engaged principally in procurement of uranium for the Plowshare Program. For many years prior to this work, he was employed by Eagle-Picher Company as Chief Metallurgist and Director of Milling, and was responsible for the design, construction, and operation of many metallurgical plants throughout the United States and Mexico. Concurrently, he pioneered in the production of germanium for the electronics industry.
Mr. Crabtree joined AIME in 1936 and has served as chairman of the Mineral Processing Division, member of the Board of Directors of the Arizona Section, ex-officio member of the AIME Board of Directors, and chairman of numerous regional and national committees of AIME and other professional societies.
From AIME he received the Robert H. Richards Award in 1966, and was made a Distinguished Member of the Society of Mining Engineers of AIME in 1975. In 1964, he received the Distinguished Achievement Medal from the Colorado School of Mines.