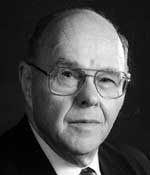 Edward H. Mayer (SPE)
AIME Honorary Membership in 2006
In recognition of his innovation in several areas of petroleum engineering technology and longstanding leadership in SPE professional activities, especially those facilitating technology transfer.
Edward H. Mayer received a BS Degree in Petroleum Engineering from Stanford University and an MS Degree in Petroleum Engineering from the University of Southern California. He is a Licensed Engineer in California, as well as a Registered Environmental Assessor in that state.
He has been employed as a Petroleum Engineer by Chevron USA, Monterey Oil Company, Exxon USA, Occidental Petroleum Corporation, and since 1965, Thums Long Beach Company At Thums, Ed worked in positions of increasing responsibility in reservoir engineering, enhanced oil recovery processes, budget and planning, safety and environment. He is presently Chief Staff Engineer (Senior Engineering Advisor).
Mr. Mayer has been continuously involved in SPE activities since joining the Society as a student member in 1950. His service has been at the Society, Region and Section level. He was a member of the first SPE Symbols Committee that formulated the Standard Symbols for Reservoir Engineering list. Ed continued his service on this committee for many years as the scope of the standard was expanded. This symbols committee service included several terms as Chairman. Because of his service on the symbols committee, Ed was a technical advisor for SP's first style guide. Other service has been on the Distinguished Lecturer, Continuing Education and Meetings Committees. He chaired the first two. On the Continuing Education Committee, he was a catalyst for making short courses a part of annual, regional and topical meeting programs. While on the Meetings Committee, he helped draft the first manual for SPE Meeting Conduct. He chaired a 1989 Ad Hoc Committee on Meeting Policy.
Mr. Mayer has written a number of technical papers on such varied subjects as hydrocarbon phase behavior, air and gas drilling, computer applications in field development planning and EOR technology. He has served on the Society Editorial Committee and was a member of the 1989 Ad Hoc Committee on Publications that set many of the current ground rules for technical paper publication.
In the area of meetings, Ed has served on several program committees for Western Region Meetings and SPE DOE EOR Symposiums. He chaired the Program Committee for the 1986 Western Region Meeting. He has been a director of the Los Angeles Basin and San Joaquin Valley Sections, also serving as secretary of the former group. He was involved in both sections when the Western Region meeting was first placed on a rotating site basis. Recently, he was a prime mover in establishing the SPE Thermal Operations Symposium which was held for the first time in 1991 in Bakersfield, and the SPE International Arctic Technology Conference which was also held for the first time in 1991 in Anchorage. Ed continues his long service as Co Chairman of the Los Angeles Basin Sections Environmental and Study Group Forum. Mr. Mayer served as 1988-1990 Western District SPE Director. He was also a member of SP's US Council from 1989 1990. In 1989 Ed and several other SPE Officer/Directors acted as an ad hoc task force whose work resulted in establishment of SPE and US Council SPE Committees on Environmental and Safety Matters. Ed is a member of both these committees and chairs the US Council group. The Environmental and Safety Committees have been very active in seeing that health, safety and environmental subjects are addressed in all areas of SPE activities. Ed received the SPE Distinguished Service Award in 1967 and was elected an SPE Distinguished Member in 1983.
In the area of civic affairs, Ed has been active in United Way and Boy Scouts work. He was chairman for several years of the Finance Board of First Lutheran Church of Long Beach, California. He presently serves as a Director and Treasurer of The Petroleum Club of Long Beach. He is a member of the American Association of Petroleum Geologists, Phi Epsilon Tau, and the Los Angeles Basin Chapter of API. Ed also is presently a volunteer fund raiser for Stanford University's School of Earth Sciences. He is a member of an industrial advisory committee to the Department of Chemical Engineering of the Illinois Institute of Technology. He also is an at large member of the Conservation Committee of California Oil Producers. He was a member of that organizations Engineering Board for four years and Board Chairman in 1989.