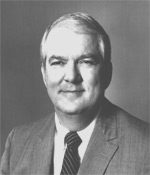 Edward E. Runyan (SPE)
AIME Honorary Membership in 1988
For dedicated and distinguished service to SPE and AIME; for major contributions to the evolution of SPE to a worldwide organization; and for outstanding leadership and vision in the growth and development of the SPE foundation.
Edward E. Runyan is President and Chairman or the Board of Directors of Bell Petroleum Services. Inc. His past professional affiliations include the engineering consulting firm of Bailey, Sipes, Williamson and Runyan, Inc., Elcor Chemical, and Standard Oil of Ohio. He was a member of the Board of Directors of Texas American Oil Company from 1976 to 1981 and Weeks Petroleum Limited, from 1975 to 1984, serving as Chairman of the Board of Weeks from 1979 to 1984.
Mr. Runyan holds a B.S. and an M.S. in Petroleum Engineering from the University of Tulsa, and in 1978 he was named a distinguished alumnus of that university. Mr. Runyan has been active in educational affairs for many years, serving as a member of the Advisory Council to the College of Management of the University of Texas of the Permian Basin and as a past member of the Advisory Council to the College of Engineering of the University of Tulsa.
Active in AIME and the Society of Petroleum Engineers since 1954. Mr. Runyan served on the Boards of both SPE and AIME, was President of SPE in 1975 and 1983 President of AIME. He served as chairman of the SPE Foundation and is a past chairman of the SPE Permian Basin Section. In 1983 he received the SPE Distinguished Service Award and was named an SPE Distinguished Member.