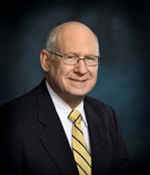 Drew A. Meyer (SME)
AIME Honorary Membership in 2018
In recognition of his dedication and perseverance in the development of the SME Foundation, continuing through his exemplary service as SME President and AIME Board Member.
Drew A. Meyer is the recipient of the President's Citation "for outstanding leadership and service to the society in developing and organizing the Construction Materials and Aggregates Committee. In 2010 he received the AIME Hal Williams Hardinge Award for his contributions to the Industrial Minerals industry. The society is indebted to Drew Meyer for his efforts in membership recruitment and program development to serve the construction materials and aggregates community. His leadership and commitment have strengthened both the current reputation and the future wellbeing of the society.
Meyer is currently President of Drew Meyer Consulting, Inc. and formerly was vice president, marketing and transportation services, for Vulcan Materials Company. In that position Meyer was responsible for the marketing, marketing research, marketing support services, transportation sales and support services departments, and economic forecasting and analysis for construction materials. He is a graduate of The Pennsylvania State University with B.S. and M.S. degrees in mineral economics. He served three years in the U.S. Army in Europe and Vietnam, attaining the rank of Captain.
Meyer spent more than 34 years with Vulcan Materials, where he worked at the corporate, group and division levels in the United States and overseas. Meyer has been an active participant in the construction aggregates industry associations. He was vice chair?at?large of the National Stone, Sand & Gravel Association (NSSGA)and served on the board of directors of the International Concrete & Aggregates Group. He is an honorary Life member of the NSSGA board of directors. At the time of its merger with the National Stone Association (NSA), he was first vice chair of the National Aggregates Association (NAA). He also served as treasurer, and chair of the NAA Long?range Planning Committee. Prior to the merger of NAA and NSA he served as chair of the NSA marketing division.
Meyer has been a member of SME for more than 40 years and served as chair of the newly formed Construction Materials and Aggregates Committee. He served on the SME board of directors. He serves on the board of trustees of the SME Foundation and has been its Vice President. He served on the board of directors of the Mineral Information Institute, where he was chair of the Nominating Committee. He is currently on the Mii Advisory Committee. He is a member of the American Marketing Association, and the National Association of Business Economists.