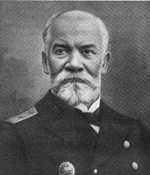 Dmitry Tschernoff
AIME Honorary Membership in 1902
Dimitri Konstantinovitch Tschernoff was born in Petrograd, Russia, on November 1, 1839, and died in Yalta (Crimea) in the south of Russia, on January 2, 1921.
He obtained his early education in the Russian Gymnasuim, corresponding to the American high school, and in the Technologic Institute. On graduation from this Institute in 1858, he was engaged as a professor of geometry and algebra and later became a librarian and superintendent of the museum in the same Institute.
In 1866, Professor Tschernoff left the Technologic Institute and entered the employ of the Obouchoff steel plant. Here he did his most important work on the heat treatment of steel, its crystallization and metallography.
In 1880, he left Obouchoff and went to the south of European Russia, where he discovered and developed some rock-salt mines. This enterprise brought him a rather large fortune.
In 1884, he returned to Petrograd and during the next four years held several prominent positions in government departments. In 1899, he became professor of metallurgy in the Michael Artillery Academy, and retained that position until the time of the Russian Revolution.
In September, 1917, Professor Tschernoff was spending his vacation, as usual, in the city of Yalta (Crimea) in the south of Russia, with his wife and one of his daughters. As in the case of a number of Russian scientists, the horrors of the revolution compelled him to live the last three years of his life under very miserable conditions, which broke his body but not his spirit, for, according to information from his son, he continued his study and work up to the last moments of his life.