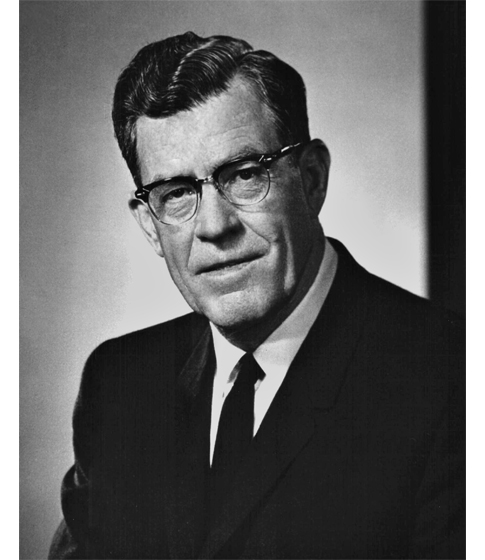 Dean A. McGee (SPE)
AIME Honorary Membership in 1972
For his early recognition of the need for "a total energy concept" and his prudent leadership in the demonstrability of its benefits to our Country's welfare and to the mineral industry.
Dean A. McGee is the Chairman of the Board of Directors and Chief Executive Officer of the Kerr-McGee Corporation in Oklahoma City, Oklahoma.
Mr. McGee received his B.S. degree in Mining Engineering from the University of Kansas in 1926 and he taught geology there for one year. He then joined the Phillips Petroleum Company, but in 1937 resigned as its Chief Geologist to become Vice President of the Kerlyn Oil Company, predecessor to the Kerr-McGee Corporation. He became Executive Vice President of the company in 1942, President in 1954, and in 1963 he was also elected Chairman of the Board. Since 1967 he has continued as Chairman of the Board and Chief Executive Officer.
Mr. McGee is an officer, director, or member of numerous professional, scientific, education, and community organizations. He is also on the Board of Directors of the General Electric Company, the Oklahoma Natural Gas Company, and the Fidelity Bank of North America in Oklahoma City, and hi is a trustee of the California Institute of Technology and Oklahoma City University. He has served as Chairman of the Gulf District Committee for the Selection of Rhodes Scholars for several years.
He has received numerous awards, a few of which are: The Erasmus Haworth Distinguished Alumni Award of the University of Kansas (1951), the Most Outstanding Industrialist of the South Award of the Southern Association of Science and Industry (1955), National Brotherhood Citation of the National Conference of Christian and Jews (1961) and in 1969 he was elected into the American Academy of Achievement. He has received honorary degrees and citations from the Colorado School of Mines, Oklahoma City University, Bethany Nazarene College, the University of Kansas, and the University of Oklahoma.