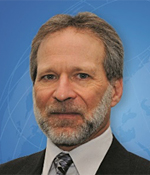 Daniel Moos (SPE)
AIME Honorary Membership in 2016
For his pioneering work on hydraulic fracturing and sonic well logging, technical leadership in geophysical reservoir characterization, and many contributions to SPE and the industry.
Daniel Moos is a Baker Hughes Technology Fellow and Chief Scientist at the company's Palo Alto Innovation Center. He started his professional career in academia as co-founder of the L-DGO Borehole Research Group at Columbia University, which developed and managed downhole measurements for the International Ocean Drilling Program, during which time he participated in a number of ODP scientific cruises. He then returned the Stanford University's Rock and Borehole Geophysics Project, where he continued to develop new methods for downhole stress measurement, wellbore acoustics, wellbore imaging and rock physics. In 1996 he co-founded GeoMechanics International to further develop and deliver these technologies to the oil and gas and geothermal industries. GMI was acquired by Baker Hughes in 2008. Dan served as Chief Scientist of BHI's new Reservoir Development Services organization and was elected a Fellow in 2012. In 2013 he co-founded BHI's Palo Alto Innovation Center.
He has published more than 100 papers, has given invited talks, served on panels, developed and taught short courses, and consulted worldwide. He has organized and served on committees for SPE Workshops and Forums, and has served as a reviewer and special volume editor; he is currently a member of the Western Hemisphere Forum Series Implementation Committee. He has developed technologies and holds patents in wellbore imaging, stress determination and stress-based wellbore steering, acoustic detection of hydrocarbons, pore pressure prediction, and fractured reservoir characterization and exploitation. He received a BS in Geology from Cornell University in 1978 and a PhD in Geophysics from Stanford University in 1983.