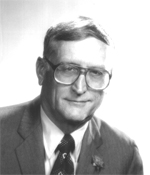 Charles S. Matthews (SPE)
AIME Honorary Membership in 1993
For important contributions to petroleum engineering technology that have increased understanding of oil and gas reservoir performance; and for his commitment to worldwide information dissemination efforts in the engineering and scientific community.
Charles S. Matthews spent more than 40 years with Shell Oil Co. after graduating from Rice University with a Ph.D. in Chemistry. His early career centered around research involving Shell's first waterfloods and in development of methods for interpreting transient well tests.
During his career with Shell Oil Company Dr. Matthews served both as Director of Research and Manager of Engineering in Shell's Head Office.
Dr. Matthews is a member of the National Academy of Engineering and is listed in Who's Who in America and American Men and Women of Science. He has given expert testimony before the U.S. House of Representatives and the Texas House and Senate. He has appeared on the McNeil-Lehrer Report. His articles have appeared in National Geographic, Barrons, The New York Times, Newsweek and numerous technical journals, and he has published more than 20 technical papers in SPE journals.
Dr. Matthews is a Distinguished Member of the Society of Petroleum Engineers, from which he received the Lester C. Uren Award for distinguished achievement in petroleum engineering He toured SPE chapters as Distinguished Lecturer and later as Distinguished Lecturer Emeritus. He was co-author of the first monograph published by SPE entitled "Pressure Build-Up and Flow Tests in Wells."