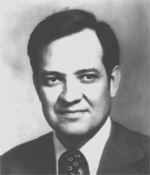 Charles L. Bare (SPE)
AIME Honorary Membership in 1993
For his successful efforts to infuse into programs of the Society of Petroleum Engineers the highest of professional standards; and in recognition of major contributions in fiscal issues that have enhanced the Society's financial base and in turn its ability to provide new and enhanced programs for the worldwide membership and the public.
Charles L. Bare is Manager, Headquarters Operations, Exploration Production, Russia, for Conoco Inc. in Houston. After he was graduated from the University of Oklahoma, Mr. Bare began his petroleum engineering career with the Magnolia Petroleum Co. in 1954. He joined the Continental Oil Co. in 1961 and has held numerous managerial positions since. He currently serves as Vice Chairman of the International E&P Forum, an organization that represents the upstream Industry and related environmental, safety and operating practices to governments and other interested parties.
Since the late 1970's Mr. Bare has taken major initiatives to extend SPE programs worldwide. He was key in the formation of the biennial SPE/U.S. DOE Symposium on Enhanced Oil Recovery. He guided the establishment of SPE Europe as an organization to represent SPE's interest in the United Kingdom and throughout Europe, Africa, and the Middle East and was also the major representative in securing the SPE interest in the Offshore Europe Conference and Exhibition in Aberdeen. Mr. Bare has served as a member of both the AIME and SPE Boards and was President of SPE in 1979. An SPE Distinguished Member and recipient of the SPE Distinguished Service Award, Mr. Bare was awarded the 1993 DeGolyer Distinguished Service Medal.