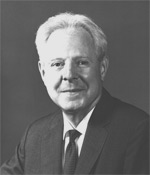 Carleton C. Long (TMS)
AIME Honorary Membership in 1972
For distinguished contributions in electrothermic winning of zinc from sulphide ores and lead blast furnace slags, for his organizational action and many years of valuable leadership in The Metallurgical Society of AIME and for his outstanding service to the Institute.
Carleton C. Long is the Director of Research for the St. Joe Minerals Corporation. He joined the company (then called the St. Joseph Lead Company) in 1935 as a Research Engineer, became Director of the Research Department in 1937 and was appointed to his present position in 1955.
Since joining AIME in 1937, he has given a great deal of time to the Institute and to The Metallurgical Society of AIME. He was a co-founder of the Extractive Metallurgy Division of TMS-AIME and its Chairman in 1950. He served as Director of AIME in 1950, 1954-1957, 1959-1963 and as Vice President in 1961-1963. He is a former Director, Vice President and President ( 1960) of The Metallurgical Society of AIME and for the past several years he has worked as its Treasurer. Dr. Long is a Fellow of The Metallurgical Society of AIME and was chosen as the Extractive Metallurgy Division Lecturer in 1970.
In addition to his AIME affiliations, Dr. Long has been active in the Engineers Joint Council as its Director ( 1963) and Executive Committee Member ( 1964), he helped found the International Lead Zinc Research Organization, he is a Fellow of the American Association for the Advancement of Science, and he is a member of the American Chemical Society, the Electrochemical Society and the National Society of Professional Engineers. He holds a B.S. and a Ph.D. from the University of Colorado and a M.S. from Stanford University.
Dr. Long has made distinguished contributions in the area of electrothermic winning of zinc from its sulfide ores and from lead blast furnace slages. His work in the extractive metallurgy of zinc has led to improvements in fluid bed roasting practices, in the purification of sulfide ores and in dust recovery from industrial gases. He holds a number of patents in the field of extractive metallurgy and is the author of many published technical papers.