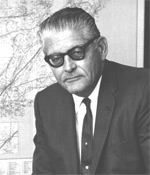 Basil P. Kantzer (SPE)
AIME Honorary Membership in 1991
"For distinguished service as an engineer and executive of major oil and gas corporations, and for major contributions to tire Society, tire Institute, and tire engineering profession."
Basil P. Kantzer began his career in the oil industry in 1934 as a field roustabout with Union Oil Company of California after earning his B.S. in Petroleum Engineering from Stanford. He proceeded through numerous engineering and supervisory positions, becoming Manager of Field Operations for Union in California in 1943. In 1950 he was named Manager of Domestic and International Gas Operations. He became Manager of Union's Gulf Coast Division in 1955. Vice President of the division in 1957; and in 1958 he was named Vice President for the company's worldwide exploration and production activities He left Union in 1962 to become President of Transwestern Pipeline Company. When Transwestern was acquired by Texas Eastern Transmission in 1968. he became an executive consultant to the company, serving in that capacity until 1974 when he became an independent oil and gas investor.
During Mr. Kantzer's industry career, he was also involved in other major industry organizations including the American Petroleum Institute and the California Oil Producers Association. Active in SPE and AIME for more than half a century, he served two terms on the SPE Board of Directors and became SPE President in 1957. He was a member of the AIME Board from 1957 to 1960 and was an AIME Vice President in 1959. He was named an SPE Distinguished Member in 1983.