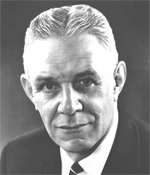 Augustus B. Kinzel (TMS)
AIME Honorary Membership in 1969
In recognition of his exceptional leadership of the engineering profession as president of AIME, as president of the Engineers Joint Council, as founding president of the National Academy of Engineering, and as a distinguished contributor to the technical literature of metallurgical engineering.
Augustus Braun Kinzel retired as vice president, research of Union Carbide Corporation. He is a fellow of The Metallurgical Society of AIME and is currently a director and consultant to several nationally known corporations.
Dr. Kinzel received an A.B. degree from Columbia University in 1919 and a B.S. from Massachusetts Institute of Technology in 1921. He earned doctorates in science and metallurgical engineering at the University of Nancy, France. In 1926 he joined Union Carbide and Carbon Research Laboratories, Inc. He became its president in 1948.
From 1955 until his retirement in 1965, Mr. Kinzel was vice president, research for Union Carbide Corporation. He holds AIME's James Douglas Gold Medal and is a past Howe Memorial Lecturer. Last year he was Regents Lecturer at the University of Southern California. He holds over 40 United States patents and is the author of more than 60 technical papers.
The highest honor that AIME can confer is election to Honorary Membership in the Institute. Each candidate must be recommended by the Committee on Honorary Membership composed of eight past presidents of the Institute. After an affirmative vote by the committee, recommendation is presented to the Board of Directors. By secret ballot, not more than one dissenting vote is permitted for the election of a candidate. The number of Honorary Members shall at no time exceed twenty.