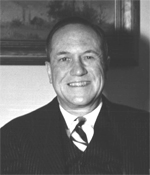 Andrew Fletcher (SME)
AIME Honorary Membership in 1960
For his outstanding leadership in the lead and zinc mining industries, and for his able and devoted services to the Institute as its Treasurer and President, and as a Director for many years.
Andrew Fletcher, a valued Member of AIME since 1936, was graduated from Sheffield Scientific School, Yale University, in 1916. Following graduation, he was connected with shipyards until 1929 when the W. & A. Fletcher Co. was sold to the United Dry Docks, Inc. He then became Vice-President and Treasurer of the St. Joseph Lead Co. with which he has been associated ever since.
During the period 1929-1940, Mr. Fletcher was also actively connected with public utilities, as he was a Director of the Engineers Public Service, Gulf States Utilities, El Paso Electric and Western Public Service. With the increasing of his responsibilities with the St. Joseph Lead Co., he gave up all connection with the above companies. He became Executive Vice-President of St. Joseph Lead Co. in 1946, President in 1947, and, having resigned the presidency, has just been elected Chairman of the Board. He is also President of Meramec Mining Co., which is developing the large iron ore deposit in Missouri, in which St. Joseph Lead and Bethlehem Steel each have a fifty per cent ownership.
Mr. Fletcher is Past President of AIME, President of United Engineering Trustees, Inc., Vice-President and Treasurer of the American Mining Congress, Past President of Lead Industries Assn. He is a Director and Trustee of St. Joseph Lead Co., Mine La Motte Corp., Bonne Terre Farming and Cattle Co., Missouri-Illinois Railroad Co., Engineering Foundation, Industrial Hygiene Foundation of America, Inc., Societe des Mines de Zellidja, American Zinc Institute, and American Bureau of Metal Statistics. He is a member of many professional organizations.
Mr. Fletcher has received an honorary Doctor of Engineering degree and two Honorary Doctor of Laws degrees. He takes an active interest in civic affairs in his home community of Mendham, N. J.