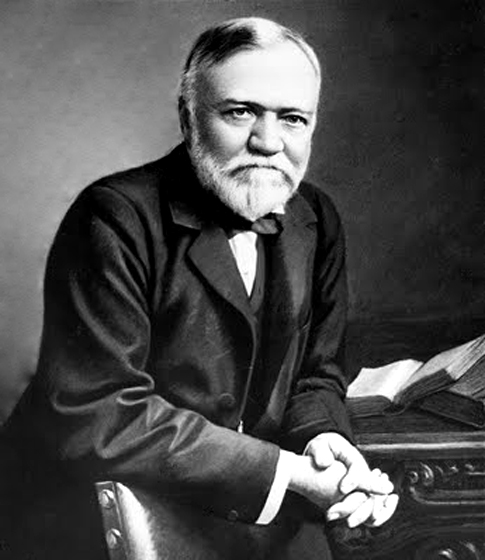 Andrew Carnegie
AIME Honorary Membership in 1905
Andrew Carnegie was born in Dunfermline, Scotland, on November 25, 1835. He was the first son of William Carnegie, a linen weaver and local leader of the Chartists, and of Margaret Carnegie.
William Carnegie's handloom business dwindled in the wake of industrialization, and in 1848 the family emigrated to the United States, settling in Allegheny, Pennsylvania. It was in Pittsburgh, at the age of 13, that Andrew Carnegie began his career as bobbin boy in a cotton factory for $1.20 per week. A voracious reader, he took advantage of the generosity of Col. James Anderson who opened his library to local working boys. Books provided most of his education as he worked his way through a series of jobs from messenger boy in the city's telegraph office to superintendent of the Western Division of the Pennsylvania Railroad. 
Andrew Carnegie ultimately made his fortune in steel, turning the industrial world on its ear in the process. He introduced the Bessemer steel-making process to America and, in 1875, opened his largest steel plant, the Edgar Thompson Works, in Braddock, Pennsylvania. In 1899, Carnegie joined several of his business interests by forming the Carnegie Steel Company, which immediately became a leader in the steel industry. Carnegie's companies were founded not as stock corporations but as partnerships, in line with his philosophy that "it shall be the rule for the workman to be Partner with Capital, the man of affairs giving his business experience, the working man in the mill his mechanical skill, to the company, both owners of the shares and so far equally interested in the success of their joint efforts." As associates, Carnegie attracted young men with exceptional talent for organization management. His steel company prospered, and when Carnegie sold the company to J.P. Morgan in 1901, the Carnegie Company was valued at more than $400 million.
Andrew Carnegie's philanthropic career began around 1870. He is best known for his gifts of free public library buildings. His first such gift was to his native Dunfermline in 1881, and it was followed by similar gifts to 2,509 communities in the English-speaking world.
In 1889, he wrote "The Gospel of Wealth" in which he boldly articulated his view that the rich are merely "trustees" of their wealth and are under a moral obligation to distribute it in ways that promote the welfare and happiness of the common man. Carnegie was a prolific writer, but the quotation for which he is most famous comes from "The Gospel of Wealth": "The man who dies thus rich dies disgraced."
When Carnegie retired from business in 1901, he set about in earnest to distribute his fortune. In addition to libraries, he provided hundreds of church organs to local communities. Carnegie's wealth helped to establish numerous colleges, schools, nonprofit organizations, and associations both in his adopted country, as well as in Scotland and throughout the globe. His most significant contribution, both in terms of money and in terms of enduring influence, was the establishment of several endowed trusts or institutions bearing his name.
By the time of his death in 1919, Andrew Carnegie had given away about $350 million, but the legacy of his generosity continues to unfold in the work of the trusts and institutions that he endowed.