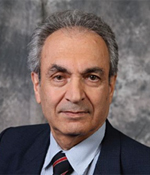 Ali A. Daneshy (SPE)
AIME Honorary Membership in 2016
For his more than 46 years of professional services to the industry, academic institutions and the SPE, making immense contributions to the understanding of the science and physics of rock mechanics and hydraulic fracturing in the oil and gas industry.
Ali A. Daneshy is President, Daneshy Consultants Int'l, Inc. His areas of expertise include well completion and hydraulic fracturing, geo-mechanics, intelligent completions, ICD applications and design, and water control. He has served as Director of Petroleum Engineering at the University of Houston from 2004 to 2007 and VP of Integrated Technology Products, Halliburton Energy Services in Houston Texas, from 1996 to1998 where he was responsible for integrating leading-edge technologies into the oil and gas services business. Daneshy has had management assignments in Europe, Africa, the Middle East and Asia Pacific and he is conversant in several languages. He is very familiar with global operations of the oil and gas industry. As operations Technical Manager for the Europe/Africa Region of Halliburton, London England he had technical responsibility for all areas of Halliburton services. He also held the position of director of European Research Center for Halliburton, Leiderdorp, Holland in 1989. He was the Manager of Reservoir Research & Engineering for Halliburton, Duncan OK in 1985 with responsibilities in the areas of rock mechanics, fracturing, and reservoir engineering. He has held several other technology management positions in the areas of well stimulation, geo-mechanics, produced water management, software development, fluid mechanics, on-site data acquisition systems, etc.
He was named an SPE Distinguished Lecturer in 2004–2005 and was named an SPE Distinguished Member. He served as a director-at-large on the SPE Board of Directors from 2004 to 2007, chaired the board's Audit Committee from 2005 to 2006, and chaired its Committee on Education from 2006 to 2007. Daneshy has chaired several other SPE committees, including the Transactions Editorial Review Committee, the Publications Review Committee, the North America Forums Committee, and the Meetings Evaluation Committee. He also founded the SPE Forum Series in Asia Pacific in 1990.
He holds an MS in mining engineering (rock mechanics) from the University of Tehran (1964), an MS in mineral engineering from the University of Minnesota (1968), and a PhD in mining engineering (rock mechanics) from the University of Missouri-Rolla (1969).
Daneshy is Co-Editor-in-Chief and publisher of HFJ (Hydraulic Fracturing Journal), a quarterly publication entirely dedicated to various technical and operational aspects of Hydraulic Fracturing. He has published over 50 technical publications in various areas of oil and gas completions and production and over 15 publications in various areas of technology management and engineering creativity. Books Authored include, "Well Stimulation". Chapter 17, "Petroleum Well Construction". Edited by Economides, M., Watters, L. Dunn-Norman, S. John Wiley, & Sons, 1998 "Proppant Transport", Chapter 10, SPE Monograph Vol. 12, "Recent Advances in Hydraulic Fracturing". Edited by Gidley, Holditch, Nierode, and Veatch. 1989 "Upstream Technologies, Novel Well and Production Architecture" Encyclopedia of Hydrocarbons, Instituto Della Encyclopedia Italiana, Vol III, Energy and Sustainability Published by ENI.