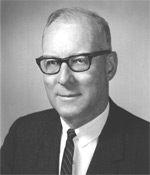 Albert J. Phillips (TMS)
AIME Honorary Membership in 1973
For his many contributions to nonferrous technology, to copper casting economics and for his service to the metallurgical profession.
Albert John Phillips is a consultant dealing with the metallurgy of copper. He retired in 1967 from the American Smelting and Refining Company, where he held the position of Vice President and Director of Research.
Dr. Phillips was educated at Yale University, receiving his Bachelor of Arts degree in 1923, his Master of Arts degree in 1925 and his Ph.D. degree in 1928. He worked for the Scovill Manufacturing Company until 1931, when he joined the American Smelting and Refining Company, with whom he remained associated in various capacities until his retirement in 1967. Since retirement he has done consulting work on the metallurgy of copper and has been an Executive Volunteer of the International Executive Service Corps with a tour of duty in Singapore. While Dr. Phillips has papers and patents in the field of non-ferrous metallurgy in general, his particular field of interest has been the relationship of gases to the melting and casting of copper. These studies led to the development of the ASARCO Copper Melting Furnace and several continuous casting processes.
Dr. Phillips has been a member of AIME since 1922, when he was a student at Yale. He was awarded the AIME James Douglas Gold Medal in 1966, served as an AIME Director from 1948-1950, is a member of the AIME Legion of Honor Fifty-Year Members, and is a Fellow of The Metallurgical Society of AIME. In 1958 he received the Gold Medal of the American Society for Metals and later was made an Honorary Member of that Society.