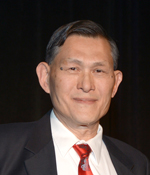 Wen H. Su (SME)
AIME Erskine Ramsay Medal* in 2015
For demonstrated technical excellence and extensive published work on coal mine ground control that has benefited the safety and success of the entire coal industry.
Wen Su graduated from National Cheng Kung University in Taiwan in 1972 with a B.S. degree in mining and petroleum engineering. He spent the next four years in the Taiwanese military and mining industry, before moving to the United States, where he enrolled in West Virginia University's (WVU) Mining Engineering Department. He received his M.S. and Ph.D. degrees in mining engineering in 1978 and 1982, respectively.
From 1982 to 1986, Su served as a research assistant professor in the Department of Mining Engineering at WVU, where he taught ground control related subjects and assisted Syd S. Peng with three chapters in the books, Coal Mine Ground Control and Longwall Mining.
In 1986, Su joined Consol Energy's Research and Development Department, where he attained the level of senior research scientist. In 2000, he transferred to Consol Energy's CNX Coal Operation Engineering Group, where he now serves as manager of geomechanical engineering. During his 28-year career with Consol Energy, he has served a vital role in overseeing all aspects of geotechnical design and problem solving for all of Consol's coal and gas operations. He has published nearly 80 refereed ground control papers and mining-related geotechnical reports.