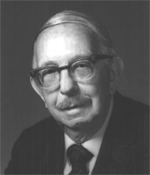 Raymond E. Zimmerman (SME)
AIME Erskine Ramsay Medal* in 1983
In recognition of his pioneering efforts and significant technical contributions over many years in the fields of coal preparation engineering, coal carbonization and coal utilization.
Mr. Zimmerman received B.S. and E.M. degrees in mining engineering from The Pennsylvania State University in 1926 and 1930. He began his career as a preparation and research engineer for the Pittsburgh Coal Co. (now Consol), where as early as 1930 he did basic and pilot research on froth flotation. He later became preparation manager at Hanna Coal Co. As research engineer and by-product superintendent for Pittsburgh Coal Carbonization Co., he developed with Carl E. Lesher the Disco process of low temperature carbonization. After serving in World War II, Mr. Zimmerman became Professor and Head of the Department of Mineral Preparation at Penn State. He worked as chief preparation engineer for U.S. Steel Corp. before joining Paul Weir Co. in 1954. In addition to his consulting activities, Mr. Zimmerman is currently engaged as preparation editor for Coal World.
Mr. Zimmerman is a member of the Society of Mining Engineers of AIME, the Institution of Mining Engineers (U.K.), the American Association for the Advancement of Science, and is a fellow of the Mineral Preparation Society of Great Britain.