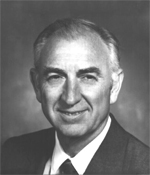 R. Eugene Samples (SME)
AIME Erskine Ramsay Medal* in 1994
"For his distinguished achievements in coal mining: bringing bis engineering roots to the boardroom where be guided innovtively major segments of this nation's coal industry."
Ronald E. Samples is President and Chief Executive Officer of Arch Mineral Corporation and responsible for management of a privately held coal company which in the 1980s grew to be among the top ten domestic coal producers in revenues and profitability. He started his career as a resident engineer, went lo Consolidation Coal Company in 1966 and from 1979-82 was President Coal & Mineral Operations for Conoco, Inc. which, in addition to the Chairmanship of Consolidation Coal Co., included responsibility for Conoco mineral operations. He served on the management committee for Conoco, Inc. Highlights of his experience include negotiation for coal mining complex in the Peoples Republic of China and for coal concessions in Indonesia, Colombia and Venezuela.
He has a BS in mining engineering from New Mexico Institute of Technology, attended the Executive Program in Business Administration at Columbia University and received a PhD (Honorary) from New Mexico Institute of Technology.
He is the recipient of many awards from academia, industry, government and professional associations. In addition to AIME, he is a member, past chairman and founding director of the National Coal Association; he holds directorships in industry and community based organizations.