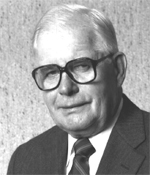 John T. Boyd (SME)
AIME Erskine Ramsay Medal* in 1993
"For renowned achievement in the mining industry resulting from his role as a mentor to young engineers and finding solutions to arduous situations through the international consulting firm which bears his name."
John T. Boyd currently serves as Chairman of the John T. Boyd Company, Mining and Geological Engineers, of Pittsburgh and Denver. He earned a S.S. in Mining Engineering from The Ohio State University in 1935. His early mining career included assignments as an engineer trainee and production engineer for Pittsburgh Coal Company, Hanna Coal Company and Warner Collieries. In 1944, he became a partner in the consulting firm of J. W. Woomer and Associates and subsequently acquired the firm in 1964.
Mr. Boyd has been a member of SME-AIME since 1950 and was named a Distinguished Member of SME in 1987. He has professionally participated in a variety of activities, playing a supporting role while his consulting partner was President of SME, provided encouragement and lent his wisdom to three members of his firm during their service as Chairman of the Pittsburgh SME Section, and supports and employs student members of the Society who are attending the several mining schools in the region.
His professional career has been and continues to be devoted to the technological and professional advancement of the mining industry. He is a recognized authority in developing innovative mine designs for modern mining equipment and systems and in the field of mineral exploration and evaluation. In recognition of eminent contribution to the advancement of his profession and related fields of activity, the faculty of the College of Engineering, The Ohio State University, conferred the title "Distinguished Alumnus on Mr. Boyd in 1983.