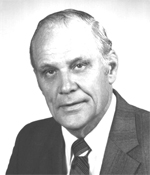 John L. Schroder, Jr. (SME)
AIME Erskine Ramsay Medal* in 1992
"For his leadership in the coal industry and his dedication and service lo mining education."
John L. Schroder, Jr., is the former Dean of the College of Mineral and Energy Resources, West Virginia University. He was graduated from the West Virginia University School of Mines with a B.S. in Mining Engineering. Upon graduation he was awarded a Research Fellowship in Mining Engineering and received a M.S in 1941. He joined U.S. Steel 1n 1941 as a junior engineer at the former H. C. Frick Coke Company.
After service in the military, Mr. Schroder was employed by the Gay Coal and Coke and Gay Mining Companies. He returned to U.S. Steel's coal operations 1n t949 as an assistant engineer-mine planning. In 195t he was named Assistant Chief Engineer. He was appointed Chief Engineer of the Gary and Lynch Districts in 1953 and in 1958 was named General Superintendent of the Lynch District. He became General Manager-Coal Operations 1n 1970, Vice President-Coal Operations in 1979 and in 1981 was named President of U.S. Steel Mining Co After his retirement in 1983 he served as Special Assistant to the President of the American Mining Congress In 1984 he accepted the appointment as Dean at West Virginia University and held this position until he retired in 1991.
Mr. Schroder has been active and held offices in many social, industrial and professional organizations He 1s a member of SME, the 'Nest Virginia Coal Mining Institute and the National Mine Rescue Association. He is also a member of the Old Timers Club and the King Coal Club Mr Schroder 1s the 1992 recipient of the SME Howard N. Eavenson Award.