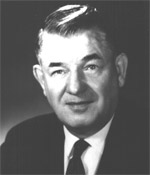 Jesse F. Core (SME)
AIME Erskine Ramsay Medal* in 1971
"For his contribution to the general improvement of good coal mining practices, particularly in the development of mining personnel."
Jesse F. Core is Vice President-Coal Operations, United States Steel Corporation, Pittsburgh, Pennsylvania. Starting in 1935 and continuing after his graduation from Pennsylvania State University with a degree in Mining Engineering in 1937, Mr. Core worked as a coal miner for the Hillman Coal and Coke Company. From 1938-1947, he was employed in various capacities by the Pittsburgh Coal Company. He then joined Buckeye Coal Company and later Island Creek Coal Company, before joining U.S. Steel in late 1951. Mr. Core's first position with U.S. Steel was as a Mining Engineer in the Frick District, Uniontown, Pennsylvania. He was appointed Chief Engineer of that District in 1954, and General Superintendent in 1955. In 1958, he was named Vice President in Charge of Coal Operations in Pennsylvania, West Virginia, Kentucky, Alabama, Tennessee, Colorado and Utah.
Mr. Core is a member of the American Mining Congress and has been Chairman of the Coal Division since 1959. He has been Chairman of the Executive Committee of Keystone Bituminous Coal Association since its formation in 1965, and is a Past President of the Coal Mining Institute of America. He is a member of the Mine Inspectors Institute of America, National Mine Rescue Association, American Iron and Steel Institute, Engineers Society of Western Pennsylvania, the Pennsylvania Society of Professional Engineers-Fayette Chapter, Rocky Mountain Coal Mining Institute, the King Coal Club and Old Timers Club, serving as a member of the Educational Committee in the latter Club. In 1966, Mr. Core was elected a Distinguished Alumnus of the Pennsylvania State University.