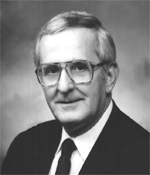 J.E. "Jack" Katlic (SME)
AIME Erskine Ramsay Medal* in 1995
"For his outstanding leadership and innovation in all apects of the coal industry, achieving cultural change in both productivity and safely, and/or his special role as an outstanding and effective emissary for the coal industry spanning his entire career."
J.E. Katlic, retired Senior Vice President of the American Electric Power Service Corporation's Fuel Supply Department, is now a Management Consultant. At AEP he was responsible for the general management of the coal mining, preparation and transportation subsidiaries of the AEP System's operating utilities, as well as overall fuel procurement activities. Prior to joining AEP. he was executive vice president engineering and government relations of Island Creek Coal Company, a subsidiary of Occidental Petroleum Corp.
Mr. Kallie is a graduate of West Virginia University where he received BS and MS degrees in mining engineering. He began his career in 1948 with Rochester and Pittsburgh Coal Company. A leader in the coal industry, he is past chairman of the National Coal Association and recently completed an appointment to the national Inland Waterways Users Board which advises the Secretary of the- Army and Congress on inland waterways priorities and funding.
Listing in Who's Who in America, he was a member of the negotiating team for the 1978 wage agreement negotiations between the Bituminous Coal Operators and the United Mine Workers of America. He has given numerous speeches to various professions. technical and civic organizations.