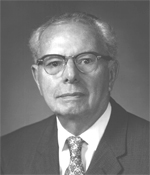 James Rowland Cudworth (SME)
AIME Erskine Ramsay Medal* in 1972
"As an educator who developed many coal mining leaders and for his own contribution in minerals beneficiation and geology in the southeast."
James Rowland Cudworth is Dean Emeritus and Professor Emeritus of the College of Engineering at the University of Alabama. He retired in 1968.
Dean Cudworth has served as a consultant with many organizations including the National Research Council of the National Academy of Science of which he was Assistant Executive Director of the Minerals and Metals Advisory Board in 1952-1953, the Oak Ridge National Laboratory, the U.S. Defense Department and the U.S. Bureau of Mines, with whom he has been a consultant since 1928. He has held offices in the American Association of Engineering Education, the Engineers' Council for Professional Development and the Alabama Academy of Science. He has been active in AIME as Chairman of the Southeast Section and of the Mineral Industry Education Division and as Vice Chairman of the Coal and Industrial Minerals Divisions. Dean Cudworth has published many technical papers on coal research, industrial minerals and engineering education and he was honored in 1968 by the state of Alabama as an Outstanding Engineer.