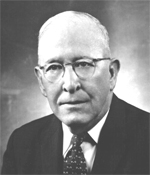 James Harvey Pierce (SME)
AIME Erskine Ramsay Medal* in 1969
"For his worldwide renown in coal mining engineering, valuation management and labor relations, and for his sixty years of untiring devotion to the coal industry."
James Harvey Pierce is chairman of the board of Pierce Management Corporation. He has been a private consulting mining engineer for 37 years. His work as a consultant was preceded by a highly successful business career.
Dr. Pierce obtained his E.M. degree from Lehigh University in 1910. He earned his doctorate at the same institution thirty-six years later-1946.
During his early years, Dr. Pierce worked for a number of coal companies-Lehigh Valley Coal and Consolidation Coal among them-first as a mining engineer, then chief mining engineer, general superintendent and finally vice president. He has been a consulting mining engineer since 1932, and has served as managerial and engineering advisor to numerous coal producers.
The 1969 Ramsay gold medalist has been a consultant to The World Bank, the Export-Import Bank, and to the Agency for International Development and its predecessors. He's been president of ten coal companies and board chairman of three mining firms controlled by Pierce Management Corporation.
His service to government includes membership on the National Bituminous Coal Industrial Board and the Solid Fuels Advisory War Council, and a term as technical supervisor of the National Recovery Administration.