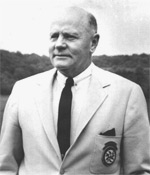 George Hutchinson Love (SME)
AIME Erskine Ramsay Medal* in 1963
"For his outstanding leadership and contributions in establishing, through research, development and marketing programs, coal as an undisputed basic source of energy."
George Hutchinson Love was born in Johnstown, Pa., in 1900. After graduation from Princeton University in 1922 and Harvard School of Business Administration in 1924, he spent two years in the investment field in New York, Boston, Chicago and St. Louis. In 1926, he became Assistant to the President of Union Collieries Co., and was elected President in 1933.
In 1943, Mr. Love was elected Executive Vice-President of Consolidation Coal Co., becoming President in 1944. When the Company merged with Pittsburgh Coal Co., he was elected President of the resulting Pittsburgh Consolidation Coal Co., the name of which was changed in 1958 to Consolidation Coal Co. He was elected Chairman of the Board in 1956 and currently holds that office.
Mr. Love was elected Chairman of the Board of Chrysler Corporation in 1961, having been a Director since 1958. He is also a member of the Executive Committee. He is a Director of Mellon National Bank and Trust Co. of Pittsburgh, Hanna Mining Co., General Electric Co., The Pullman Co., Union Carbide Corporation, and the American Mining Congress; on the Board of Trustees of the University of Pittsburgh and Magee Hospital, and a Charter Trustee of Princeton University.